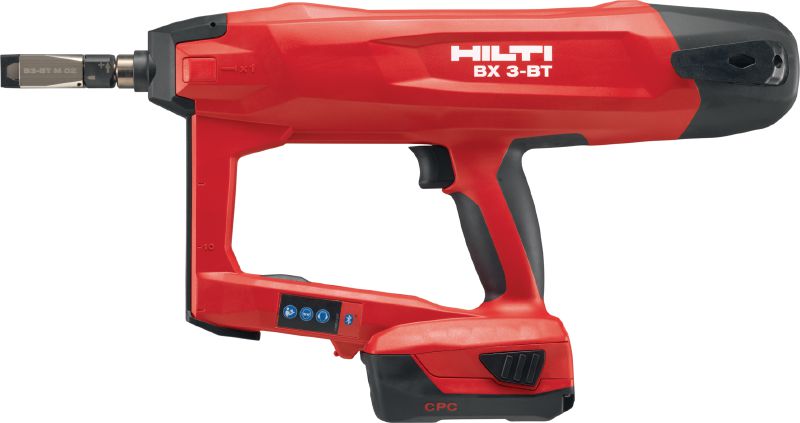 Move cursor over image to zoom.
Click on image to zoom.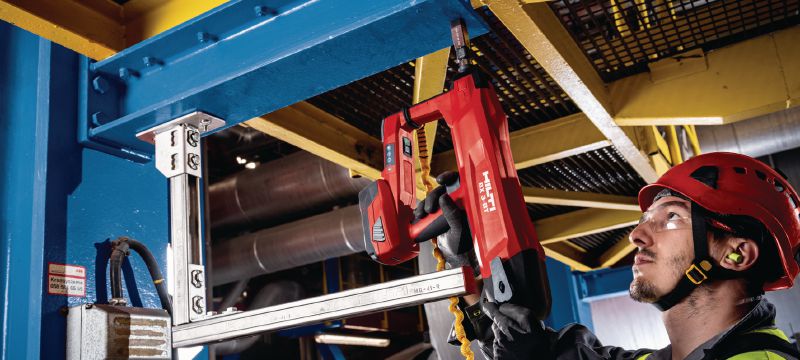 Move cursor over image to zoom.
Click on image to zoom.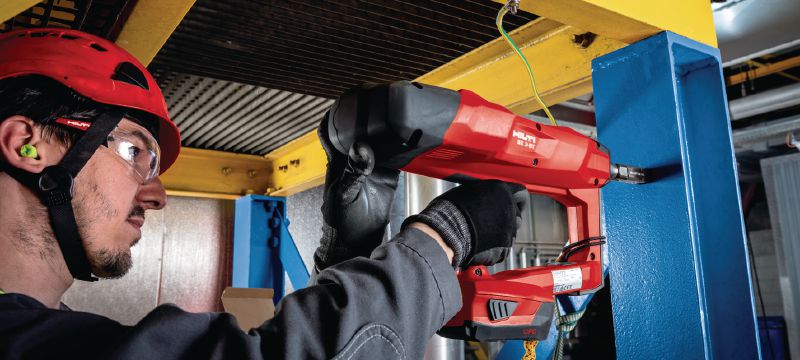 Move cursor over image to zoom.
Click on image to zoom.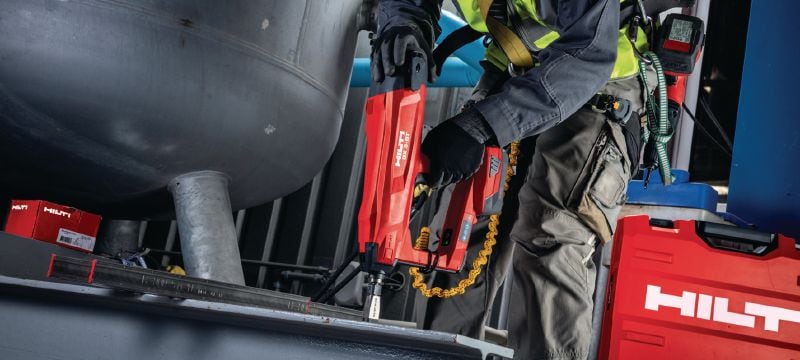 Move cursor over image to zoom.
Click on image to zoom.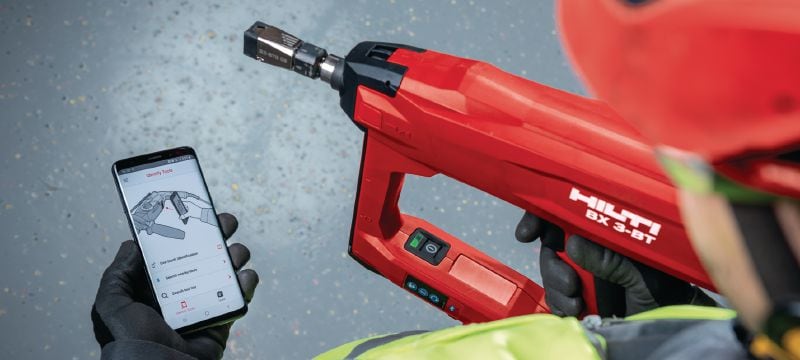 Move cursor over image to zoom.
Click on image to zoom.
BX 3-BT (02) Cordless fastening tool
New product
Item #r9808595
22V cordless nailer for fastening X-BT threaded stud
Dimensions (LxWxH): 490 x 134 x 255 mm
Tool body weight: 3.452 kg
Fastener length range: 31 - 31 mm
More technical data
Features & Applications
Features
Built on the second generation of Hilti's combustion-free direct fastening technology – for high-quality and more reliable X-BT threaded stud fastening on steel
Combustion-free operation – no powder cartridges to store and dispose
Drives up to 800/500/400 fasteners with a single battery charge (depending on B22 battery model - 5.2, 3.0 or 2.6 Ah)
Fastens X-BT threaded studs which do not require further reworking for corrosion protection on steel base material
Ideal for use on high-strength coated steel 8 mm (5/16") or thicker
Applications
Fastening cable trays, cable ladders, channels, struts, light-duty electrical installations (T-bars, instrumentation panels, junction boxes), fitting out and much more
Fastenings X-BT threaded stud to fire coated (PFP) beams
Fastening pipe supports and cable tray supports to steel
Fastening handrails to steel
Fixing façade brackets to steel
BX 3-BT
New generation battery-actuated direct fastening tool for fast and reliable fastenings
BX 3-BT extends combustion-free technology to fastening X-BT threaded studs, for a wide variety of grating, bonding and MEP applications.
Suitable for a broad range of base materials
Steel
Stainless steel
Cast iron
Combustion-free
Our BX 3-BT is combustion-free and entirely powered by your existing 22V Li-ion batteries.
This means no propellant cartridges to store and dispose, less paperwork and more accessibility for areas where powder tools might be restricted or require hot work permits.
Fast and easy
Time savings can be huge compared to traditional methods, like welding, clamping and through-bolting.
Simply drill a small pilot hole, fasten the stud, and check the embedment depth. Drill, fasten, check for fastenings in less than 2 minutes. 
No cleaning needed
As the BX 3-BT is battery-powered there are no powder cartridge "boosters", and so no powder residue to clean. 
Therefore, you don't need the cleaning kits, sprays, lubricants and other accessories associated with DX tools and welding equipment.
Smart tools
BX 3-BT joins the growing number of Hilti tools that talk to you. Using the tool's built-in Bluetooth® technology and the Hilti Connect App, you can track the number of fastenings, watch how-to videos, actively troubleshoot for routine maintenance, and even arrange a service or repair directly on the jobsite.
Limitations of traditional methods
Traditional methods for fastening on steel can be complicated, time-consuming and expensive:
Welding: can mean grinding the coated steel, employing a certified welder, gaining hot work permits and repainting the area afterwards
Through bolting: can mean access to both sides of the steel, time-consuming drilling, and small parts such as nuts, washers and bolts that may get dropped or lost
Clamping: can require access to both sides of the steel, high material costs and periodic maintenance if the clamp is exposed to vibration
The Hilti advantage
With Hilti X-BT blunt tip fastening you drive a stainless steel fastener into a pre-drilled hole in the steel. This means you maintain the corrosion protection, as there is no damage to the coating. Simply drill a pilot hole, fasten a stud and check the embedment. Drill, fasten, check for fastenings in less than 2 mins.
Unlike welding or through bolting, you do not need to prepare the base material or rework it afterwards. This makes the installation much faster, while providing reliable corrosion protection. Any trained operator can do the work, you do not need a certified welder. You also do not require access to both sides of the steel, like you do with through bolting or clamping, so no fingers in tight spaces.
Until recently, you could only drive the X-BT with a powder-actuated tool like a DX 351-BT. However, the new BX 3-BT is battery-powered, meaning no storing or disposing of powder cartridges and less hot work restrictions.
Compared to powder-actuated tools, the BX 3-BT is more comfortable to use thanks to lower compression force, noise and recoil. Plus, you can make up to 800 fastenings, with just a full charge of your existing Hilti 22V Li-ion batteries.
Everything you need for fast, reliable and battery-powered fastening on steel
X-BT-MR threaded studs
For reliable fastenings on coated steel, capable of lifting a Hilti truck!
Buy now
X-FCM-R HL grating fastener disc
Use with threaded studs to fastening grating and checker plate in highly corrosive environments.
Buy now
B3-BT fastener guides
Different fastener guides ideal for multi-purpose, electrical connections, grating and more.
SF-BT 22-A cordless drill
Runs on the same 22V battery for predrilling accurate holes for X-BT threaded studs. 
Buy now