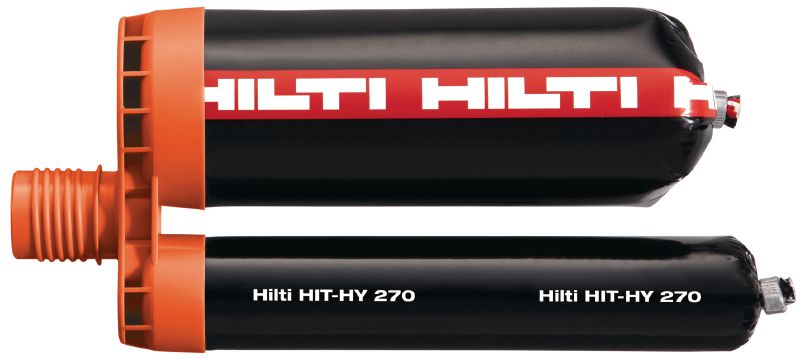 Move cursor over image to zoom.
Click on image to zoom.
HIT-HY 270 Adhesive anchor
New product
Item #r3360273
Ultimate-performance injectable hybrid mortar with approvals for fastening and retrofitting in hollow and solid masonry
Base materials: Masonry (hollow), Masonry (solid)
Base material condition: Dry, Wet
Approvals / test reports: ETA
More technical data
Features & Applications
Features
Seismic ETA masonry approval, new TR053 and technical data available – significantly increases your flexibility when designing steel-to-masonry connections
Simplify code-compliant design – design fastenings in masonry, including under seismic loads, with greater speed and ease using the PROFIS Engineering software suite
Compatible with HIT-SC composite sleeves for use in hollow base materials – offering greater flexibility through use of multiple sleeve combinations and also minimising mortar waste by allowing more accurate dosing
On-site anchor testing available – request Hilti's on-site anchor testing service for verification of both tensile and shear loads in both horizontal and vertical directions
Applications
Fastening structural steel to hollow and solid masonry
Cost-effective seismic retrofitting and structural strengthening of old masonry walls
Refurbishment and renovations of older masonry buildings
Heavy bracing of items such as sunshades on insulated materials
Fastening glass balustrade assemblies
For approval or certificate information, please see individual items.